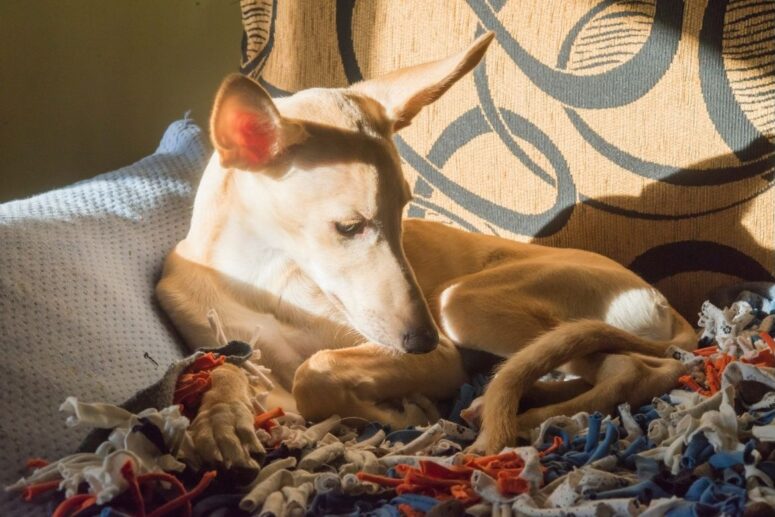 Spróbuj dodać więcej stymulacji umysłowej do jego codziennych zajęć. Zamiast po prostu dodawać więcej ćwiczeń fizycznych do rutyny psa, dodaj kilka gier do wymyślenia.
Stymulacja umysłowa wzbogaca życie naszych psów, dając im coś znaczącego do zrobienia. A ponieważ te czynności łagodzą nudę, zmniejszają prawdopodobieństwo wystąpienia u naszych psów problemów behawioralnych, takich jak nadmierne gryzienie.
Sposoby na stymulację umysłową psa to np: MATA WĘCHOWA – to bez wątpienia najbardziej przydatna zabawka dla każdego psa. Wzbudza w nim pewność siebie, spowalnia jedzenie. Zalety pracy węchowej są ogromne, a same możliwości maty pozwalają wykorzystać ją na różne sposoby. Mata pomaga przy wielu problemach behawioralnych. Jest dobra dla szczeniaka, psa dorosłego, staruszka, a nawet psiaków niepełnosprawnych.
Oprócz maty można znaleźć dużo innych tego typu zabawek np kule smakule, zabawki węchowe. Większości z nich można zrobić samemu w domu 🙂
Możemy również psa uczyć różnych sztuczek. Jak również wybudować tor przeszkód dla Naszego pupila 🙂